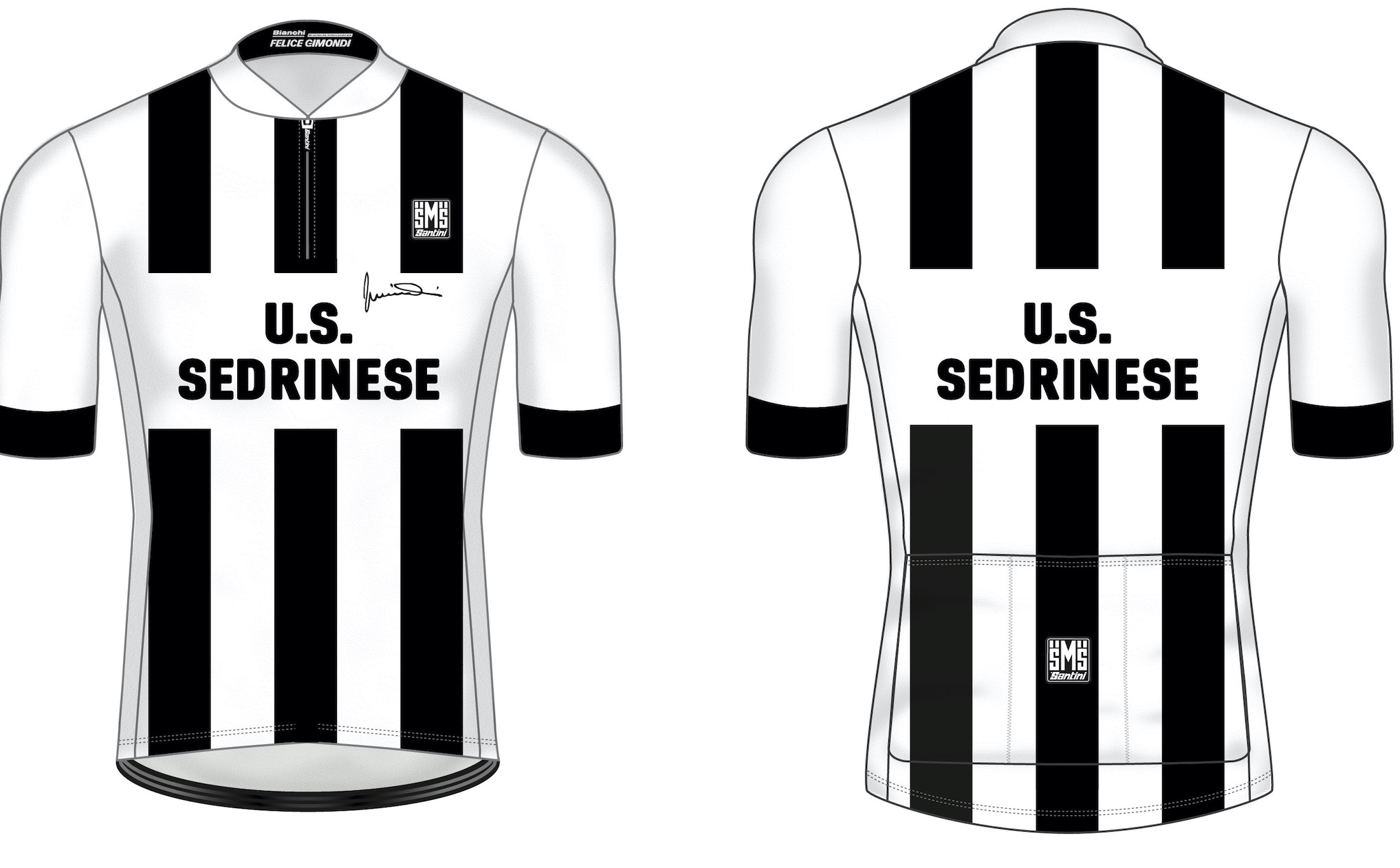 The GF official jersey celebrates Gimondi's early years
As every champion has his own starting point, the black-and-white official jersey pays homage to the beginning of Felice's career on the occasion of 24th Granfondo Gimondi Bianchi to be held in Bergamo on May 10th, 2020
Simple and elegant as Felice has always been: the official jersey of the 2020 GF Felice Gimondi – Bianchi, to be held in Bergamo on May 10th, 2020 has been unveiled. Three black vertical stripes on a white background clearly recall the shirt worn by the late champion during the 1964 season, his last as an amateur. A legendary jersey with a vintage soul that celebrates and recalls the beginning of Felice's career.
Behind this shirt there is the desire of the event's organizers to honour the memory of a great champion: the Made in Italy fabric by Santini cycling apparel factory reproduced the exclusive limited-edition "U.S. Sedrinese " design for the big day of the event. Dressing this legendary jersey will be a simple and tangible way to remember Felice. The shirt is embellished with a series of details including: Felice signature the brand "U.S. Sedrinese" front and back, the Santini logos positioned on the front top left and on the back height of the central pocket.
Santini's Virtus model represents the perfect combination of comfort and performance, thanks to its high breathability, but also to elasticity, aerodynamics and UV protection. These are the technical features of the "U.S. Sedrinese" official jersey: classic fit, raglan cut, full covered zip, collar with classic cut, breathable mesh on sides, triple back pocket, internal elastic silicon gripper at the bottom, sleeves with double hem on the end, and reflective details on the back.
How to purchase the Official Jersey "U.S. Sedrinese"
To purchase only the jersey, send an email to info@felicegimondi.it (38,00 euros)
Registration + Jersey, please click here to proceed (74,00 euros)
To select the correct size, we recommend to visit www.santinisms.it
How to register for the 2020 GF Felice Gimondi – Bianchi
Registrations will be available through the official website www.felicegimondi.it, by filling the online form, as well as at the G.M.S. main office in Via G. Da Campione, 24/c – 24124 Bergamo (tel. +39 035.211721).
Bergamo (Italy), November 29th, 2019