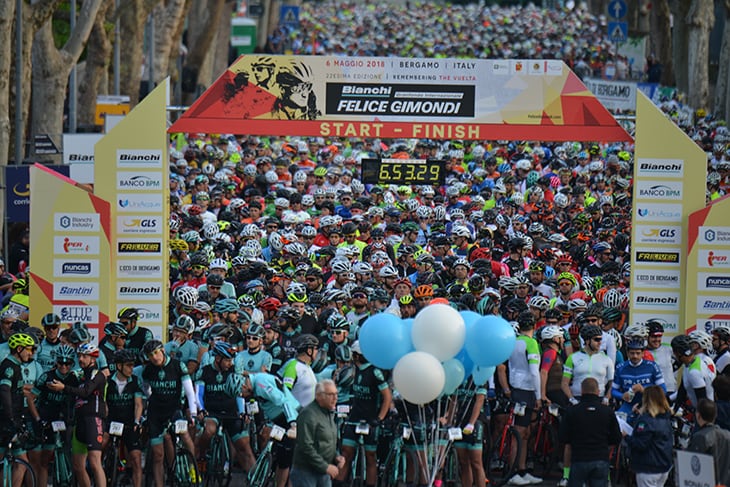 A whole success for an emotional Granfondo Gimondi Bianchi
Dario Giovine and Manuela Sonzogni claim victories in a sunny and crowded 22nd edition in Bergamo, full of stories and surprises
Passion and love, joy and anger, fear and relief: the Granfondo Felice Gimondi Bianchi, as any big event, has become a tank full of stories and mixed feelings, that all together made a sunny and crowded 22nd edition really successful, on Sunday May 6th, 2018.
Almost everyone came back satisfied from Bergamo, starting with long-course winner Dario Giovine, surviving to a crash at the last bend that disappointed his opponents, mostly Stefano Cecchini and Paolo Castelnuovo, second and third respectively.
Giovine, who covered the 164,1 km in 4:41.17, also paved the way for his Team Isolmant's exploit one Manuela Sonzogni secured the women's race too. "I am sorry for the tension after the finish – Giovine explained – but my conscience is clear, I was in front out of the last corner, I am not sure what happened behind."
Team Morotti was the strongest team on the shorter distances as Glauco Maggi and Fabio Fadini clinched a one-two in the short race (best woman was Monica Bonfanti), and the double feat of Fabio Cremaschi and Alice Donadoni – mates in sports as well as in private life – on the medium distance, among men and women. Cremaschi delivered a tough-luck second place to Michele Attolini, three-time runner up in the last three years. "I was a bit upset indeed but I'll try again next year", Attolini said, showing the perfect approach for the Gimondi riders.
After the touching moment dedicated to the late Dompè CEO Eugenio Aringhieri who suddenly passed away a few days ago (the small ceremony was attended by his two sons), a stream of bikes led by Felice Gimondi overran the routes of Bergamo and its province. With a powerful 800-person security staff, the race run smoothly except a serious crash on the descent down the Selvino climb: assisted by the helicopter rescues, the unlucky rider was rushed to hospital but his conditions are now improving.