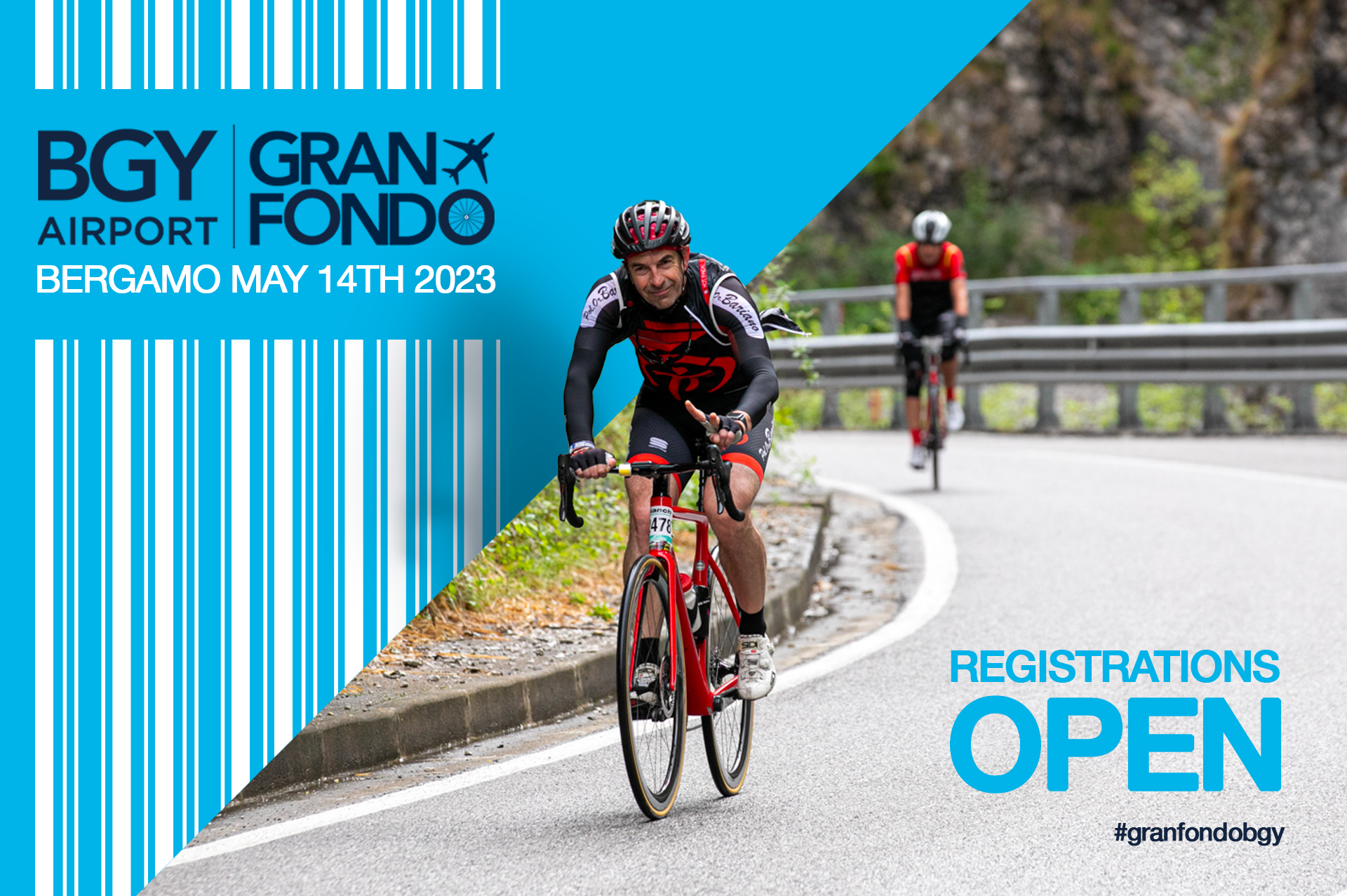 BGY Airport Granfondo opens registrations right now!
Cycling fans can sign in to the new Italian cycling event, scheduled for Sunday, May 14, 2023, from today on. Three available routes, open to all bikes both muscular and electric, a XL race pack and the official event jersey: a first edition for the ages expected
The brand-new BGY Airport Granfondo is wasting no time: after announcing the first edition for Sunday, May 14, 2023 in Bergamo, it's time to open registrations right now. The Italian amateur cycling event allows enthusiasts of all ages and levels to engage historical two-wheel routes, discovering a varied, versatile territory that has always been devoted to cycling.
Starting at 10 a.m. today, Thursday, December 15, it will be possible to book a spot on the starting grid for one of the three available routes: the Short 89.4 km (1,400 m elevation gain), the Medium 128.8 km (2,100 m elevation gain) and the Long 162.1 km (3,050 m elevation gain), all crossing amazing mountain landscapes, starting with Bergamo's iconic climb, Selvino.
There are two participation fees available until Friday, April 21. The standard one of €45.00 includes race number dorsal and front, event magazine, race information materials, membership fee, timing service, personalized certificate of participation, souvenir medal at the finish, pasta party voucher, facilitated companion pasta party voucher, medical assistance, mechanical assistance (excluding spare parts), refueling, final refreshment, showers, bike storage at the finish, results dispatch via text message or e-mail and participation in the draw of 100 individual prizes.
The €90.00 fee, on the other hand, includes an additional prestigious keepsake of the event, the official jersey crafted by Made in Italy excellence Santini Maglificio Sportivo, with a design dedicated to Bergamo being the Italian Capital of Culture in 2023. Twenty solidarity bibs are also available, at the price of 250.00 euros: their proceeds will be donated, net of the participation fee, to SpazioAutismoBergamo, a local charity association.
Finally, thanks to the GIM (Green is Magic) category, the BGY Airport Granfondo invites bicycles of all types, both muscular and electric, both road, mtb and gravel bikes, in order to encourage the participation of all cycling enthusiasts, to promote the Bergamo area and to further educate on sustainable mobility.
Registrations for the event are available through the appropriate forms on this website.