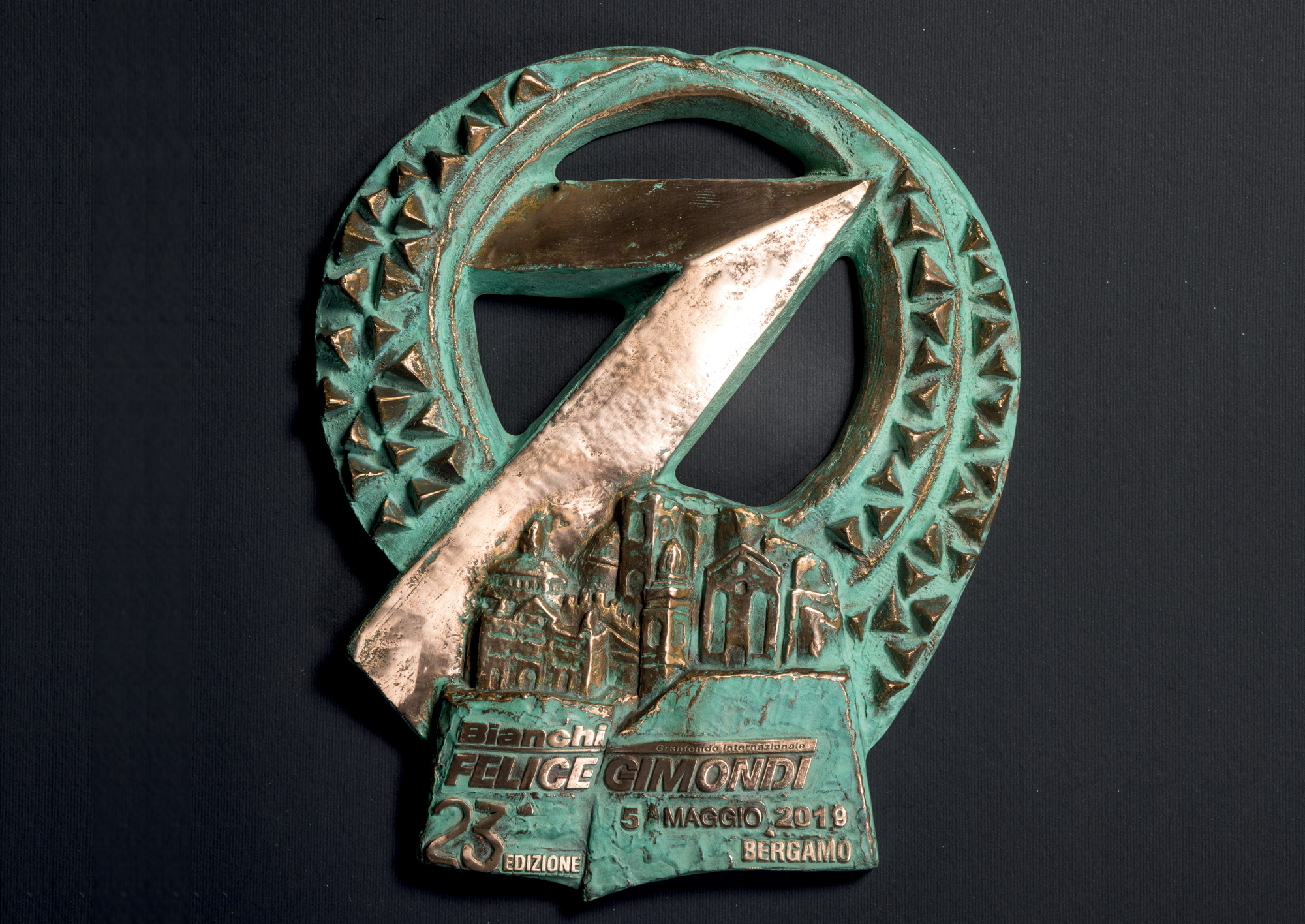 Hard as the bronze, the Magnificent 7's deeds on 2019 trophy
On a base displaying the city of Bergamo, the M° Antonino Rando gave shape to the number of the 7 Grand Slam's Giants that completed the Triple Crown and to their 51 overall wins
A big 7 in the middle, recalling the number of the Grand Slam's Giant able to win Giro d'Italia, Tour de France and Vuelta a Espana's GC at least once in their career. Three intertwined circles hosting 51 peaks, one for each deed of the Magnificent 7 champions who made tenacity their most irresistible weapon: strong and able to withstand any adversity, just like the bronze of GF Gimondi Bianchi's trophy. Master Antonino Rando merged all these hallmarks on 2019 trophy, on a base showing the Granfondo's logo, the indications of the 23rd edition and the date of next appointment on Bergamo roads, May 5th, 2019.
Also this year, in the wake of a long collaboration, the well-known Master-goldsmith and sculptor from Bergamo put his sign on the event – having "Tribute to the Magnificent 7" as headline in 2019 – handcrafting the special awards for any category's winner alongside the medals for all participants. As usual, the concept of the trophy was studied with the event's organizer Giuseppe Manenti.
At his lab in Almé (in Bergamo's nearbies) the M° Rando – fond to the Granfondo since the second edition – took the substance off to express a concept, in his trademark synthesis process. M° Rando took care of special wax technique to shape the 2019 trophy personally. Bronze melting process allows to produce the copies for the event. "Above the classic lower part of the trophy, recalling Bergamo, its monuments and the event's payoff, I made a sculptural reading, a plastic creation of the event's topic. I focused on the number seven and the 51 triumphs at Giro, Tour and Vuelta, reported on a triple circle", Rando explained.
The silver medals and those for all participants have been produced with same graphic layout to underpine the stronmg link between the artist and the event. As Rando has al always been acycling fan and Felice Gimondi enthusiast, he also became one of Felice's closest friends over the years.
Next May 5th the participants will ride on the three demanding and evocative Granfondo's routes: the 162,1 km long route with six climbs; the 128,8 km medium route featuring four uphills; the 89,4 km short route with three climbs.
How to register for 2019 Granfondo Gimondi-Bianchi
You can register for the 23rd edition of Granfondo Gimondi Bianchi either by filling in the online form on the official website (click here), or at the G.M.S. Sport Office in Via G. Da Campione, 24/c – 24124 Bergamo (tel. +39 035.211721 – fax + 39 035.4227971).