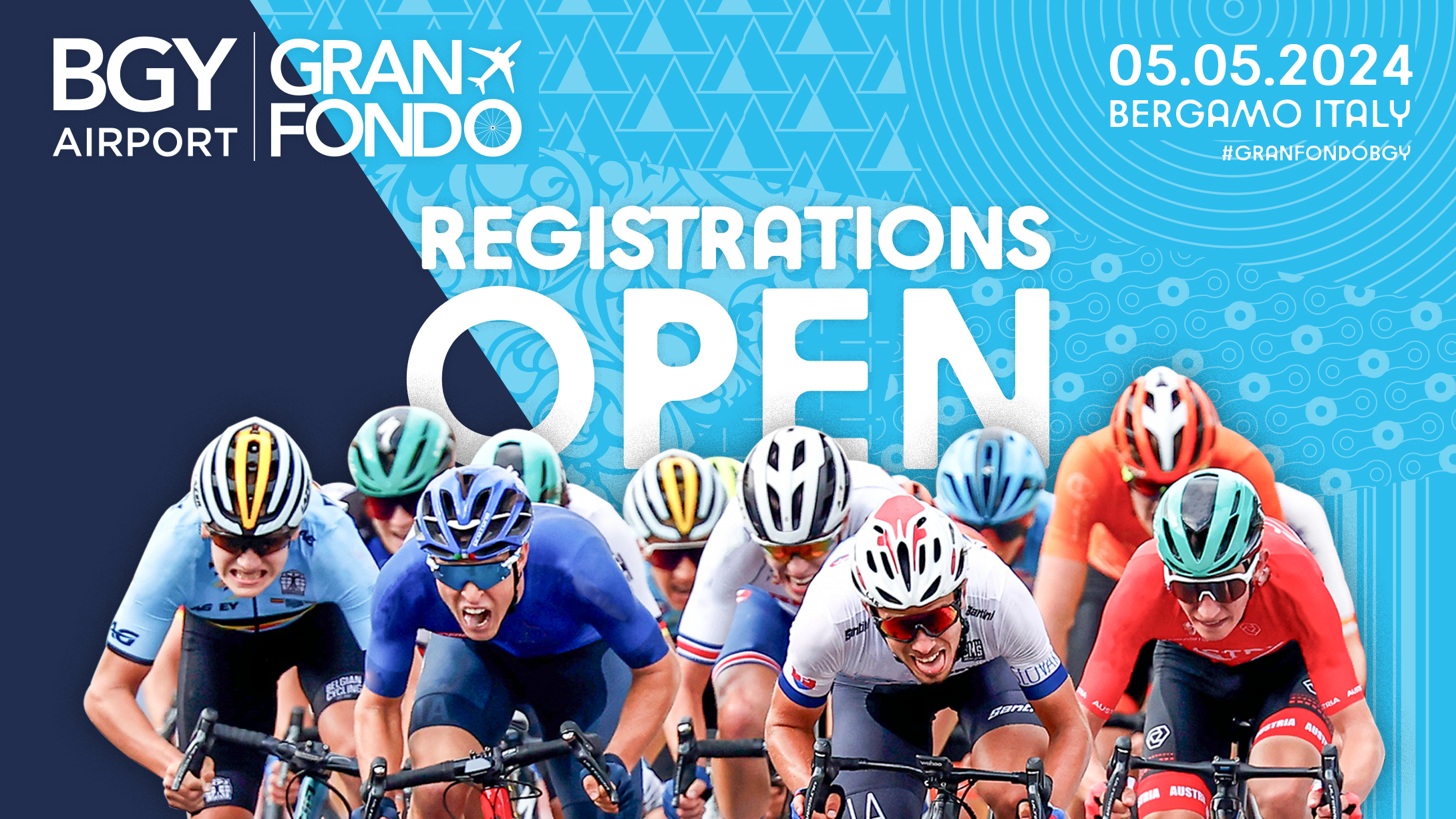 BGY Airport Granfondo registrations' opening on November 6th
The cycling mass-event scheduled on May 5th, 2024, offers a complete experience throughout its historical routes, Italian welcoming and traditions, a dedicated jersey and prizes for all categories
The BGY Airport Granfondo is announced on May 5th, 2024 in Bergamo, and all bike lovers should mark this spot in their calendar. The Italian bike mass-event organized by GMS alongside SACBO, the company managing Milan Bergamo airport (whose international acronym is "BGY"), aims at further growth afterthe 2023 edition featuring two thousands participants.
Starting on Monday, November 6th, registration for the 2024 edition will open. There are three available routes ranging from the Short of 89,4 km (1.400 m of elevation gain), through the Medium of 128,8 km (2.100 m elevation gain) and up to the Long of 162,1 km (3.050 m elevation gain). All tracks meander across the city and the province of Bergamo, including some of the most famous spot in cycling history, starting from the Selvino ascent. Furthermore, it is possible to choose which route to tackle during the race, with no obligation in doing that during the registration process.
Besides a personal goal and the finishers' medal, the 2024 edition of the Granfondo implemented the age categories' awards following this scheme: Master M1 (30-34 years old), M2 (35-39 years old), M3 (40-44 years old), M4 (45-49 years old), M5 (50-54 years old), M6 (55-59 years old), M7 (60-64 years old) e M8 (65+). The awarding ceremony for these categories will be held starting from 2:30 PM in the Lazzaretto, the headquarters of the event where all the race-related operations are held.
Multiple registration options and fees are available until Saturday, April 13th. The standard one of €45.00 includes race number dorsal and front, event magazine, race information materials, membership fee, timing service, personalized certificate of participation, souvenir medal at the finish, pasta party voucher, facilitated companion pasta party voucher, medical assistance, mechanical assistance (excluding spare parts), refueling, final refreshment, showers, bike storage at the finish, results dispatch via text message or e-mail.
In addition to the above mentioned features, the €90.00 fee includes the official jersey crafted by Made in Italy excellence Santini Maglificio Sportivo, a true heirloom of the event available in limited edition. As already happened in 2023, solidarity bibs can also be purchased at the price of €250.00: their proceeds will be donated, net of the participation fee, to SpazioAutismoBergamo, a local charity association promoting initiatives related to autism.
Registrations for the event are available through the appropriate forms on this website.