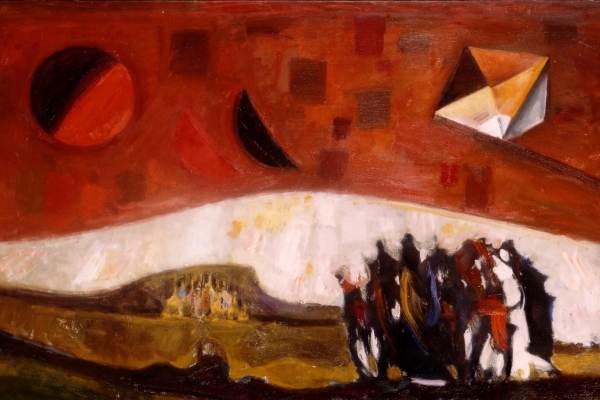 Cycling and art ride aside at Granfondo Gimondi
The paintings of local artist Trento Longaretti will be exhibited at the Creberg Foundation in Bergamo on the day of the official presentation (April 14th) and on the weekend of the event
Sports and art are riding together at Granfondo Felice Gimondi-Bianchi: a partnership consolidated by the long history of the race dedicated to Felice Gimondi, and renewed for its current 20th edition, scheduled for Sunday 15th May 2016.
Thanks to precious collaboration of Creberg Foundation, the amateur cycling event chooses each year an artist whose roots are in Bergamo or its surrounding: for 2016 – under the coordination of Angelo Piazzoli, Creberg Foundation General Secretary – 100-year-old artist Trento Longaretti has been selected for the exhibition. His works will be showed at the Sala Traini (Creberg) in occasion of the race's twentieth anniversary, on Thursday April 14th and on the event's weekend, on Saturday May 14th and Sunday May 15th .
Over the last century, Longaretti has been an extraordinary witness of our time: he depicted in his works the complexity of the human condition human condition complexity in the flow of history, through his firsthand experience. In the vision of the artist, the man is the reality, while the landscape is the fantasy, the poetry, with its role of "poetic realism" of evasion. The exhibition works, part of the heritage of Credito Bergamasco Foundation, are highly representative of Longaretti artistic career, with his very famous mother figures, landscapes, the portraits of the humbles.
Born in Treviglio (Bergamo) in 1916, Trento Longaretti studied at the Brera Academy, was a student of Aldo Carpi and in 1936 he began his career with numerous exhibitions in Milan, Genoa and Bergamo. He was soldier in Slovenia, Sicily and Albania: the war experience, with his deriving strong rejection of violence, are themes that would eventually condition his artistic career from then on. He participated in the Venice Biennial Exhibition in four following editions. He realized remarkable works of religious art, now held in famous private collections and museums.