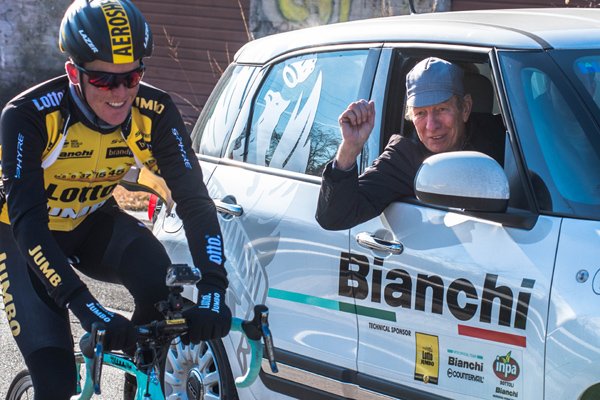 Who will be wearing the pink jersey? Gimondi, definitely
The champion from Sedrina will put on the iconic Giro's jersey once again at the GF Gimondi Bianchi in Bergamo on Sunday, May 7th. Meanwhile, the Giro d'Italia just started in Sardinia: " Nibali, Quintana and Kruijswijk my odds for the podium"
While the 100th Giro d'Italia's opening stage in Sardinia is just moving on, over 4.000 and several international partners from all over the world get ready to take part in the 21st GF Gimondi Bianchi – "Felice Gimondi in pink" to be held on Sunday, May 7th in Bergamo (Italy).
This year the Corsa Rosa is strictly tied with one of the most appreciated and famous Granfondo races, dedicated to the Gimondi's three GC wins at the Giro. Bergamo combines two events, standing out as a center of gravity for cycling and its champions: after the Granfondo, the Northern Italian city will host a Giro stage finish next May 21st indeed.
Gimondi is actually involved in both the events and he doesn't step back from giving an opinion on the Giro's favourites: "Vincenzo Nibali, Nairo Quintana and Steven Kruijswijk can go up the final podium. For sure, we'll see a thrilling challenge among big guns. Nibali and Quintana could have a little extra kick, but Steven Kruijswijk already grazed the final success in 2016, wearing the pink jersey for five days, but he still has all the skills to succeed", Gimondi explains.
Last January Team LottoNL-Jumbo's rider himself went for a recce both on the course of Giro d'Italia's stage and the routes that Giro d'Italia and Granfondo Internazionale Felice Gimondi Bianchi have in common. After that ride on the Colle del Gallo, Selvino and Bocchiola climbs, Kruijswijk received Gimondi's endorsement: "I won the 50th Giro in 1976, I hope the 100th will be Steven's one". A Bianchi bike lays as their common denominator.
Meanwhile, the preparations in Bergamo are in full swing. The Expo Area in Bergamo's Lazzaretto will open tomorrow, May 6th at 9:00 am and will be the center of the cycling happening until Sunday, May 7th at 4:00 pm. The GF Gimondi Bianchi will start on Sunday at 7:00 am. The riders will choose along the way one out of three options: short (89,4 km), medium (128,8 km) or long route (162,1 km). Felice Gimondi himself is ready to re-live the evergreen feelings bringing him back to the 14 editions of the Giro d'Italia entered and finished, with three GC wins and nine podium spots: "Returning to wear the legendary pink jersey for a day, I will feel the same emotions of old".