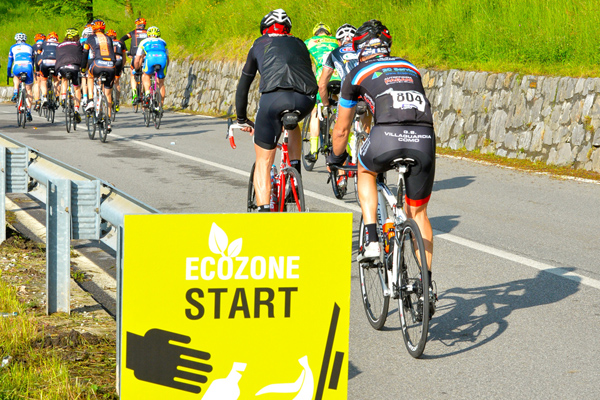 Go "green" or get "black" (listed) at GF Gimondi Bianchi
On May 7th in Bergamo (Italy), the organizers will punish every breach of the "Ecozones" rules with ban from the future editions: that's the next step in a long-time environmental-friendly policy
No more GF Gimondi-Bianchi for you, if you don't go green. Also in the 21st edition, on May 7th, 2017 in Bergamo, the Granfondo Internazionale Felice Gimondi Bianchi embraces the environmental theme. Indeed, G.M. Sport organizers implemented several initiatives to make sure cyclist enjoy the experience in full respect of the landscape, even imposing hard penalties for the transgressors.
Five feed areas will be setup of the routes, available only to the riders hanging race numbers on their jersey and bikes. There will be also setup the so-called "Ecozones", devoted to eco-sustainability scopes: waste collection portions placed in very close vicinity of the restore areas. Participants will be encouraged to get rid of canteens, water bottles and any other kind of residue there – and there only. "Start Ecozone" and "Stop Ecozone" signals, positioned by organizers, will respectively indicate the start and the end of the Ecozone Areas.
The Organizing Committee, in collaboration with the FCI race marshals and organization staff, will monitor the area to prevent participants from throwing waste along the race route and outside the Ecozones. Any participant not respecting the rules of behaviour will be banned from future editions of Granfondo Internazionale Felice Gimondi Bianchi.
The "Ecozones" are only one of the GF Gimondi Bianchi's initiatives for environmental respect. On official website www.felicegimondi.com, the organizers also provided dedicated information for participants and visitors to ensure a sustainable event. Indications on eco-sustainable behaviors, the choice of right suppliers, fair management of waste, services and transportation: from the event to everyday live, any time is a good time to go green.
How to register for 2017 Granfondo Gimondi Bianchi
Participants can register for the Granfondo Gimondi-Bianchi's 21st edition filling out the dedicated online form on the official website www.felicegimondi.it, or at the G.M. Sport Office in Via G. Da Campione, 24/c – 24124 Bergamo (tel. +39 035.211721 – fax + 39 035.4227971).