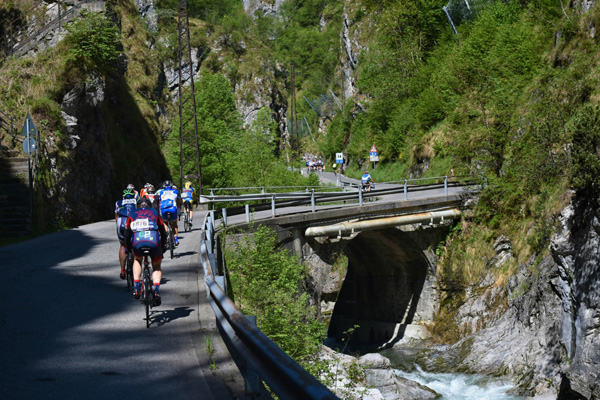 New Year's resolutions: discover GF Gimondi Bianchi and Bergamo's beauties
The participation to the Granfondo of next May 7th is both the culmination of a sports dream and the opportunity to discover some of Lombardy's most picturesque corners, from Bergamo's "Città Alta" (upper city) to the Val Taleggio
The 2016 is almost behind us, and the final days of December are usually time for both balances and promises, in everyday life as well as in sports. And for sure, participation to the Granfondo Internazionale Felice Gimondi Bianchi, to be held next May 7th, 2017 in Bergamo (Italy), will be part of the new year's propositions for many cycling passionates.
Also in the 21st edition, entitled to "Felice Gimondi in the pink", every athlete will choose among the three popular routes – "short", "medium" and "long", of 89,4 km, 128,8 km and 162,1 km respectively – even during the race. Among the participants already applied for the 2017 edition, there are a lot of first timers, coming from Italy as well as from Belgium, France, Germany, Italy, Netherlands, Switzerland, Hungary, Sri Lanka and more: the International charm of the event moves well beyond the Alps.
Granfondo Gimondi-Bianchi provides a perfect opportunity to mix different passions: sports and arts, food and nature. The city of Bergamo and the Granfondo's landscapes give plenty of reasons to anticipate or extend the stay in Lombardy. You can't miss Bergamo's Città Alta (upper city): Piazza Vecchia, that once Le Corbusier called "one of the most fascinating squares in the World", beautiful buildings like Palazzo del Podestà, Palazzo della Ragione and the City Hall tower, Santa Grata's nunnery, Donizetti's Museum, the Palazzo della Biblioteca Civica, theTeatro Sociale, the Basilica di Santa Maria Maggiore, as well as the city walls and towers.
Outside the city, the Val Taleggio is a must-go: it's also called "the small Switzerland" due to its similarities to the Swiss valleys, and it is crossed by both the GF Gimondi Bianchi's medium and long route.
How to register for the 2017 Granfondo Gimondi Bianchi
Participants can register for the 21st edition by filling out the dedicated online form on official website www.felicegimondi.it, or at the G.M. Sport Office in Via G. Da Campione, 24/c – 24124 Bergamo (tel. +39 035.211721 – fax + 39 035.4227971).