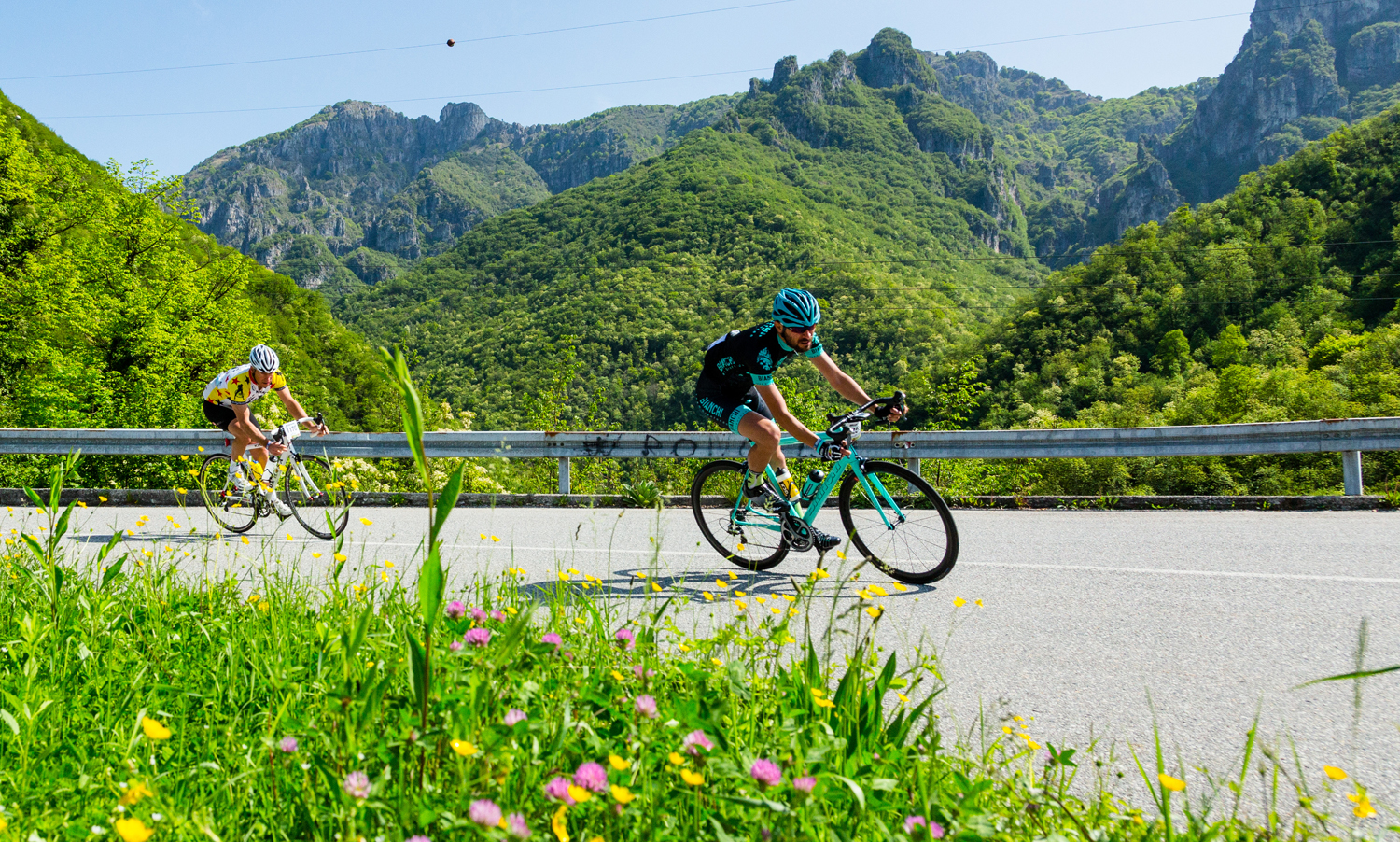 Bianchi makes the Granfondo Gimondi even more global
The performance bicycle company is title sponsor of the event celebrating its 23rd edition in Bergamo next May 5th. Bianchi will host 105 special guests from all over the World and showcase the new Sprint, Specialissima Pantani Oropa e Methanol CV RS
New bikes wearing timeless charme and cutting-edge tecnologies, international guests, selected GF specialits aiming for prestigious spots: Bianchi will strongly feature at the 23rd Granfondo Internazionale Felice Gimondi Bianchi , to be held in Bergamo on Sunday, May 5th. In the wake of a sponsorship deal extended until 2014, Bianchi will be in the spotlights in the event having "Tribute to the Magnificent 7" as headline and dedicated to the seven riders able to top Giro, Tour and Vuelta's GC at least once in their career, completing the Grand Slam: Jacques Anquetil, Felice Gimondi, Eddy Merckx, Bernard Hinault, Alberto Contador, Vincenzo Nibali e Cristopher Froome.
At the the GF Gimondi Bianchi Expo area, Bianchi will showcase a wide selection of Road, MTB and Gravel models, including the new Sprint (both Disc and Caliper), the commemorative Specialissima Pantani Oropa and the Methanol CV RS mountain bike. Oltre XR4 Disc, Oltre XR3 Disc and Infinito Disc, engineered with Bianchi CV system, Aria e-Road, Impulso e-Allroad and Orso will be on show in Bergamo too. A wide selection of Bianchi's accessories and clothings will be also available at the Bianchi booth.
Like in the latest editions, Bianchi invited to the Granfondo 105 special guests from 5 continents and 15 countries: Australia, Belgio, Canada, Cyprus, Denmark, Japan, UK, Germany, Luxemboug, Macedonia, Mexico, Netherlands, Slovakia, South Africa e Switzerland. The guests will report to the Bianchi welcome area inside the EXPO Gimondi to live two intense days of cycling.
The Bianchi Factory Team – the line-up made by Granfondo riders selected by Bianchi – will also represent the brand in GF Gimondi Bianchi's peloton with its full 17-rider roster: Mario Avogadri, Roberto De Iesu, Daniele Gualeni, Simone Zanetti, Giorgio Viotto, Enrico Grespan, Fabio Capello, Stefania Bonzagni, Marco Maini, Danilo Siciliano, Dora Fonzo, Davide Stefanelli, Massimo Campana, Marco Cadei, Alessandro Bizioli, Massimiliano Franzoso and Davide Ariano.
THE PARTNERS RIDING WITH THE GF GIMONDI
Besides Bianchi, Banco BPM (formerly Credito Bergamasco) and L'Eco di Bergamo (media partner) – Granfondo's official partner since the event's premiere – also go on joining the event, as well as Santini Maglificio Sportivo and Sitip official supporters. New but strong is also the Granfondo's bond with official partners GLS Corriere Espresso and Uniacque Servizio Idrico Integrato, official supporters Nuncas, Zurich Insurance Group Ltd and Iper, suppliers Safety and Berlucchi Franciacorta (official wine). Nutrition partner Enervit stands out as newcomer.
THE SCHEDULE IN SHORT
The GF Gimondi Bianchi will start on Sunday, May 5th at 7:00 am. The participants can choose along the way among three options: short (89,4 km), medium (128,8 km) or long route (162,1 km). The Expo Area at the Lazzaretto – headquarter of the event – will open on Saturday, May 4th: all participants will gather there to collect their race numbers and packages.