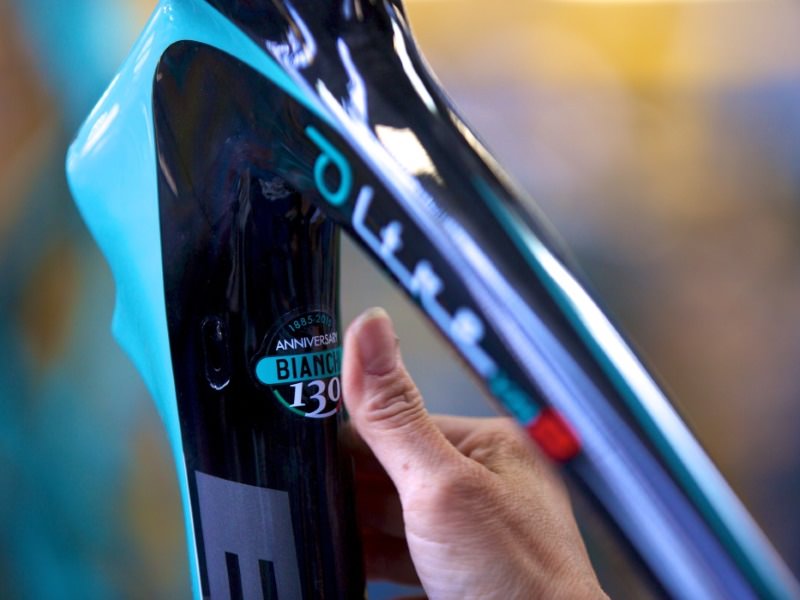 Bianchi celebrates 130th anniversary with GF Felice Gimondi
The Granfondo to be the highlight of first "Thomson Bike Tours powered by Bianchi" travel
The 19th Granfondo Gimondi – Bianchi will once again rely on Bianchi's support as name sponsor and key partner, like it happened in the 2014 edition. The match and cooperation between Granfondo Gimondi and Bianchi was almost natural, as the established amateur event – whose 2015 edition will take place on May 10th – takes place in Bergamo city, just a few kilometres away of Bianchi's main site in Treviglio, and is named after one of the greatest Bianchi icons, Felice Gimondi.
In addition to the 50 years of Felice's win at the Tour de France, Granfondo Gimondi-Bianchi will celebrate another major recurrence in 2015: 130 years of the foundation of Bianchi itself. 2015 for Bianchi will be a very special year, and Granfondo Gimondi – Bianchi will represent a key moment of festivity and celebration of an incomparable history that led it to be one of the most famous and respected brands in cycling.
Among the Bianchi's most notable initiatives related to Granfondo Gimondi-Bianchi, the new Thomson Bike Tours powered by Bianchi project will make its debut right in Lombardia, giving participants the opportunity to line-up at the start in Bergamo on May 10th. Thomson Bike Tours powered by Bianchi is the exciting new collaboration that offers a world class Bianchi Italian cycling experience backed by the famed support of Thomson. The inaugural trip to Lombardia will take place from May 9th to 16th, and is already live and open for booking on Thomson Bike Tours and Bianchi.com websites. (click here for further info and booking)
Like in 2014, innovative Bianchi Infinito CV will be the official bike of 2015 GF Gimondi-Bianchi. Rewarded with numerous prizes and unanimous appreciation, perfect bike to ride in extreme road conditions thanks to the Countervail® vibration cancelling technology, the Infinito CV achieved fantastic success in the 2014 Tour de France with Lars Boom, on the Stage 5 cobblestones. First ever bike to employ the revolutionary Countervail® technology, a Bianchi's invention and exclusive, Infinito CV cancels up to 80% more vibrations generated by the terrain, while also reducing muscular fatigue, improving the bike's handling and increasing its stiffness.
The 18th GF Gimondi-Bianchi, held in 2014, also saw a Bianchi Factory Team's representative, Daniele Gualeni, equipped with Oltre XR.2, celebrate on the short route (89,4 km). Bianchi Factory Team is made by performing riders selected by Bianchi, and will once again line-up at the start in Bergamo. Moreover, a selection of the full Bianchi range including Oltre XR.2, Infinito CV and Methanol (MTB) models were the showcase in GF Gimondi-Bianchi's Expo area.