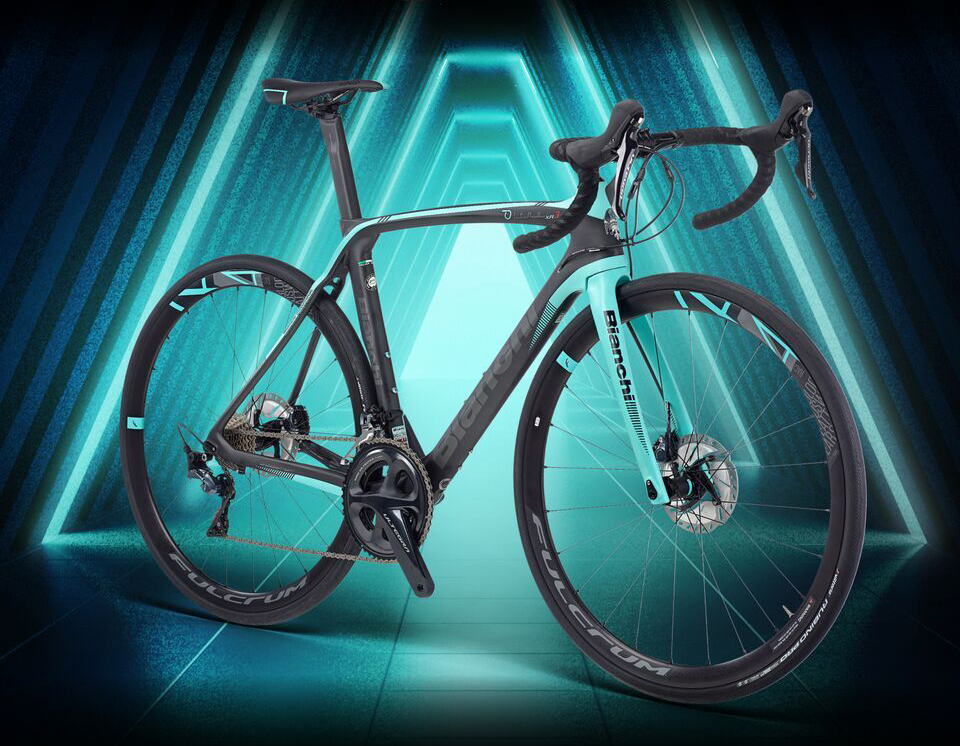 New Bianchi Oltre XR3 Disc and Nitron to star at GF Gimondi
The newborn of the Bianchi CV road family and the brand-new mountain bike are among the most awaited novelties in the Expo Area. G.M. Sport organizers are also supported by a strong pool with long-term partners and welcomed new entries
The 22nd GF Gimondi Bianchi is in the air, and long-time title sponsor Bianchi is ready to live it intensely, both on Bergamo nearbies' roads and in the Lazzaretto's Expo Area, on Saturday and Sunday, May 5th and 6th. Once again, the Treviglio's company strengthened its partnership with the G.M. Sport organizer, in the wake of the historic bond between Bianchi and Felice Gimondi. In addition, the OC will be backed by other established sponsor, partners and supporters, starting with Banco BPM, Dompè Friliver Sport, L'Eco di Bergamo, Santini Maglificio Sportivo and Sitip.
Bianchi will feature in the GF Gimondi – Bianchi Expo area showing a wide selection of Road, MTB and City-Trekking models, including Oltre XR3 disc, the new version with disc brakes of the performance aero road bike engineered with Bianchi CV system, and Nitron, the brand-new 29-inch-wheel, carbon fiber hard-tail with race ready' geometry helping riders gain a competitive advantage in speed and agility. Specialissima, Oltre XR4 (Team LottoNL-Jumbo's Primoz Roglic version), Aria Disc, Infinito CV Disc, L'Eroica, Impulso Allroad, Methanol CV, Methanol FS, Impulso E-Road, E-doardo , C-Sport will be on show in Bergamo as well.
Like in the latest three editions, the most famous Italian bike manufacturer invited to the Granfondo Gimondi – Bianchi about 150 guests from all over Europe and several Countries around the World, including Australia , Germany, Hungary, Japan, Macedonia, South Africa, South Korea, Spain. The guests will report to the Bianchi welcome area inside the EXPO Gimondi, and will live two intense days of cycling, culminating in another special edition of the Granfondo whose title is "Remembering the Vuelta" to celebrate the 50th anniversary of Felice Gimondi's triumph in the Spanish stage race.
Bianchi will be represented in GF Gimondi Bianchi's peloton also by the Bianchi Factory Team – the line-up made by Granfondo riders selected by Bianchi. A Team Bianchi, composed by customers of Officina Edoardo Bianchi in Bergamo, Bianchi Cafè & Cycles Milan, Lecco and Arese's stores, will also take in the race.
LONG-TIME PARTNERS AND PLEASANT NOVELTIES
As usual, besides the title sponsor Bianchi, there are other historical partners like Banco BPM (former Credito Bergamasco, official sponsor), Dompè Friliver Sport (official partner) and L'Eco di Bergamo (media partner), riding by the Granfondo's side since the event's premier, as well as Santini Maglificio Sportivo and Sitip (official supporters). The Hotel Cappello d'Oro Best Western (official hotel) has supported the Granfondo for 13 editions, one more than Volksvagen Bonaldi Motori (official cars), Bianchi Industry and Vittoria, official supporters. Official supporters Nuncas and Zurich Insurance Group Ltd, suppliers Acqua San Benedetto, Safety and Berlucchi Franciacorta (official wine) go on supplying the event also this year. Official partners GLS Corriere Espresso and Uniacqua Servizio Idrico Integrato stand out as novelties.
THE SCHEDULE IN SHORT
The GF Gimondi Bianchi will start on Sunday, May 6th at 7:00 am. The participants can choose along the way among three options: short (89,4 km), medium (128,8 km) or long route (162,1 km). The Expo Area at the Lazzaretto – meeting point of Granfondo's cycling community – will open on Saturday, May 5th: all participants will gather there to collect their race numbers and packages.