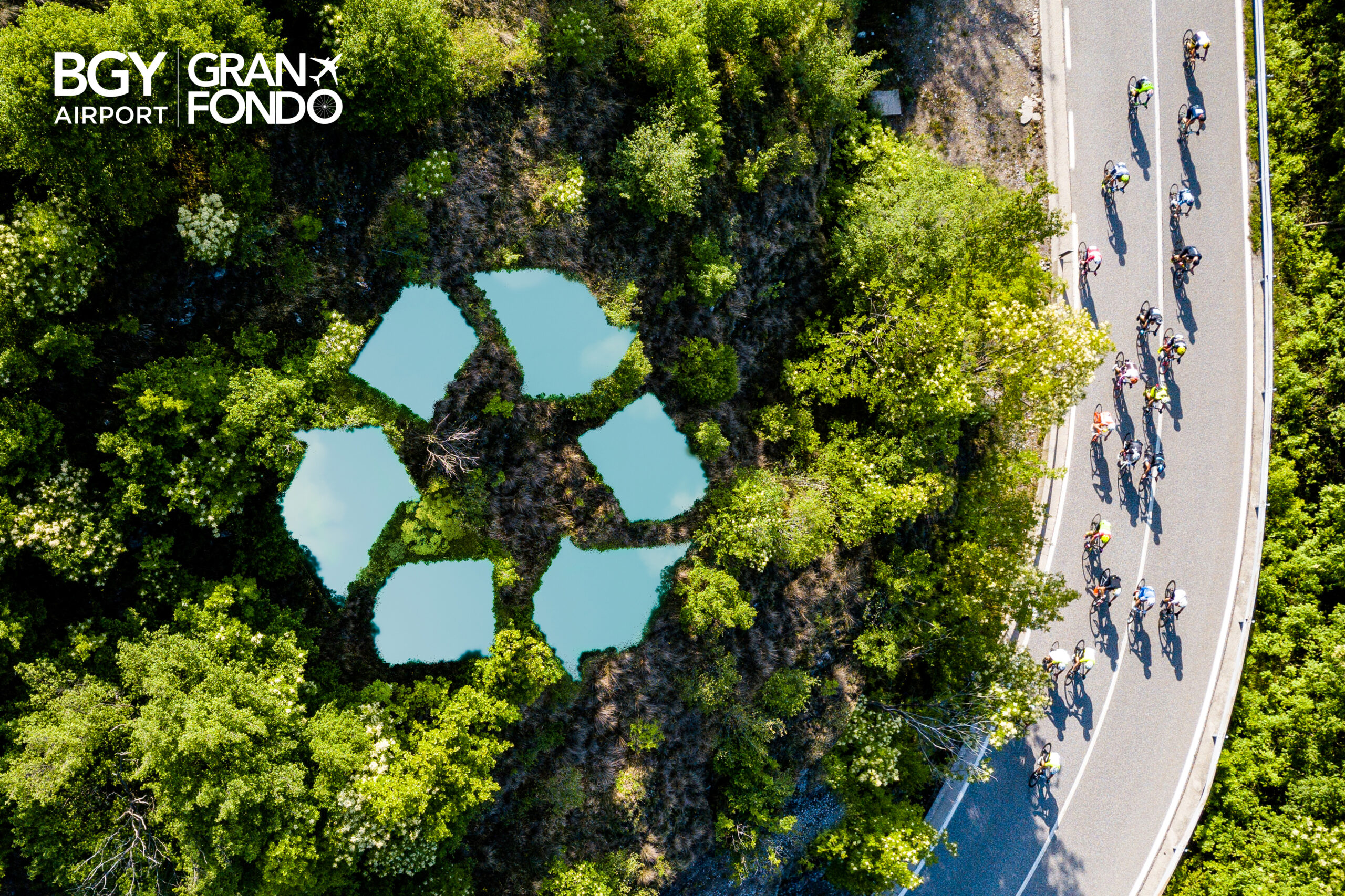 Plastic-Free and Electric-powered, BGY Airport Granfondo goes green
GMS organisers confirm their commitment to the environment through a close cooperation with Uniacque and Sarco Toyota
Scheduled on May 14th, 2023 the BGY Airport Granfondo wants to get a good start also in terms of sustainability. Thanks to the collaboration with Uniacque and Sarco Toyota, both companies based in the Bergamo area, the plastic and fuel consumption during the event will be limited, and sustainable behaviours will be recommended to participants and staff. This choice ensures consistency in the promotion of soft mobility, which has always been one of the objectives of the Bergamo Granfondo.
EcoZones will be set up at each refreshment point along the route for the collection of waste of all kinds – water bottles, snacks, etc. – and indicated by special banners. In addition, potable water usage will be encouraged, with a reduction in plastic water and fuel used for its transportation. The event joined the Uniacque campaign called "Acqua Eco Sport" and the "Water Alliance Group" in fact, hence the transport and use of as many as 18 pallets of plastic bottled water will be saved.
Indeed, this project, born in 2017 and built around the three concepts – Water, Eco-Friendly and Sport – wants to raise awareness around "care, attention and respect for the water supply, a primary and precious asset, human wellbeing and health, and the environmental quality for a sustainable future", and is aimed at "promoting and supporting sports initiatives in line with the concept of environmental sustainability".
Another important initiative has been developed together with the Sarco Toyota car dealership, whose electric cars will accompany the event for the first time, to ensure assistance and the regular running of all operations.
The BGY Airport Granfondo now displays a "Green Event" page with environmentally sustainable habits to be used in all contexts, during the event and elsewhere, ranging from reducing the use of paper to making a conscious choice of food and drinks, preferring local and seasonal products. Informative panels will also be installed at the Lazzaretto headquarters, along with awareness-raising activities targeting staff and participants of the event.
With just more than ten days to go, it is still possible to register for the BGY Airport Granfondo for one of the three available routes: the Short (89.4 km) – also open to vintage, gravel, electric and mountain bikes – the Medium (128.8 km) and the Long (162.1 km) one, with the possibility of choosing the route while riding.