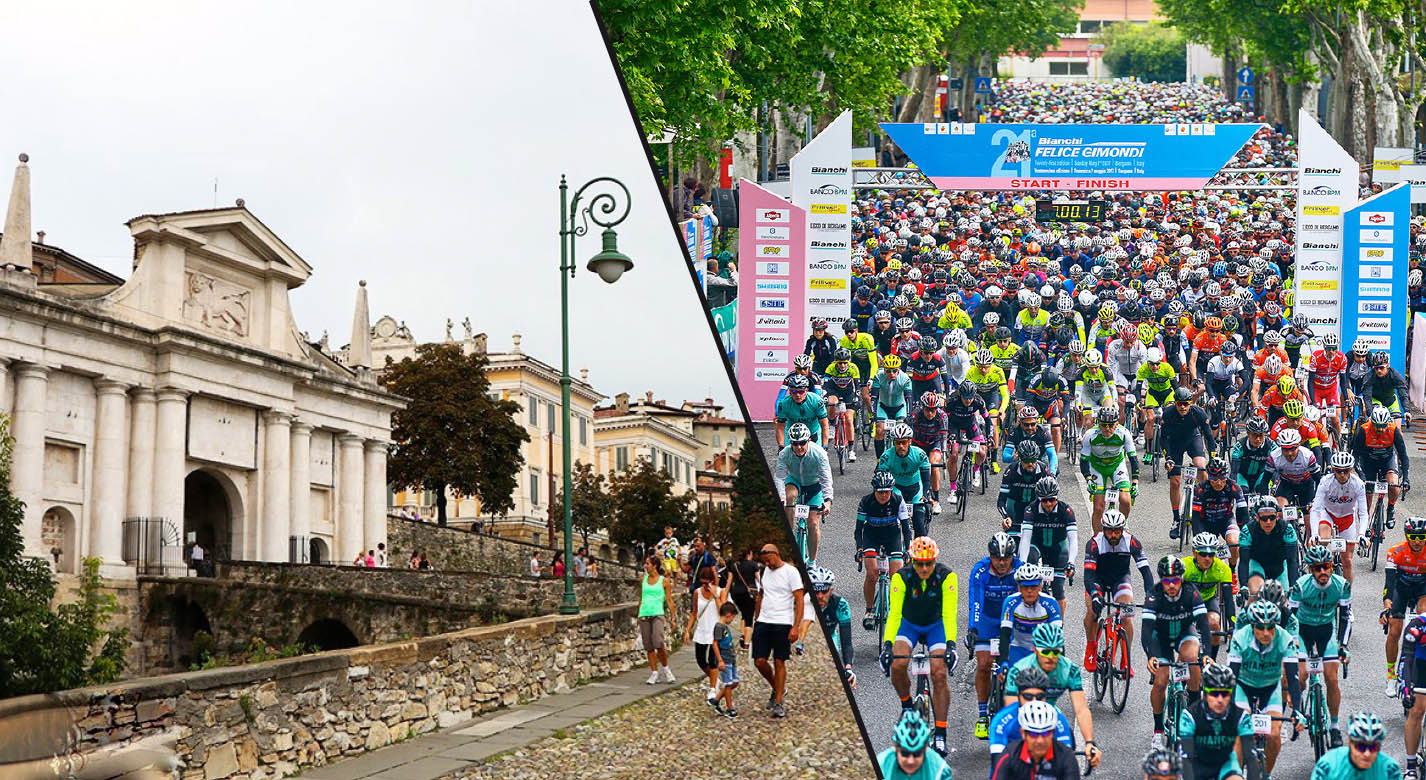 An extra reason to ride the "Gimondi"? Visiting Bergamo!
Before and after taking part to the 22nd edition of the Granfondo, the cycling lovers have the opportunity to enjoy art, nature and typical food in one of the Top 10 most reviewed Italian cities
There are many reason to experience the Granfondo Internazionale Felice Gimondi Bianchi, the cycling event byword for sports passion and professional organization: the start and finish, the effort and the joy, the Selvino and the Costa Valle Imagna climbs, the refreshment points and the Ecozones, the opportunity to choose the course along the way and the slow-ride approach. Moreover, Granfondo's old and new friends have the opportunity to combine the participation fo the 22nd edition (next May 6th) with the discover of Bergamo's cultural, natural, historical and gastronomical attractions, both in upper and lower city areas.
An impressive number of tourists visit and enthusiastically describes the city. With over 27.000 reviews, Bergamo is actually eighth in Tripadvisor's classification of the most reviewed Italian cities, topped by Rome ahead of Milan and Venice, in the period between October 2016 and October 2017. Visitors are always charmed both by Bergamo's squares (with the likes of Piazza Vecchia, that once Le Corbusier called "one of the most fascinating squares in the World") and buildings like Palazzo del Podestà, Palazzo della Ragione and the City Hall tower, Santa Grata's nunnery, Donizetti's Museum, the Palazzo della Biblioteca Civica, the Teatro Sociale, the Basilica di Santa Maria Maggiore, as well as the city defensive walls (Unesco World Heritage site) and the towers. Moreover, Bergamo's guests can appreciate Taleggio Valley's landscapes and the exhibition "Raffaello e l'eco del mito" (Raffaello and the echo of his myth) at Accademia Carrara, going on until Sunday, May 6th.
Bergamo's typical food will turn the visit into an apotheosis: the "casonsei" and the "polenta Taragna" can be found in any trattoria or local restaurant. The participants to the Granfondo have only to be careful not to overdo it, at least at the race's eve. Besides some suggestions about the locations to be visited, the GF Gimondi Bianchi's website offers a precious guide about where to eat and to sleep in the city and its nearbies. An immersive Bergamo experience will make the GF Gimondi Bianchi's week-end something unforgettable.
How to register for 2018 Granfondo Gimondi Bianchi
All the cycling fans can register for the Granfondo Gimondi-Bianchi's 22nd editionfilling out the dedicated online form on the official website www.felicegimondi.it, or at the G.M. Sport Office in Via G. Da Campione, 24/c – 24124 Bergamo (tel. +39 035.211721 – fax + 39 035.4227971).