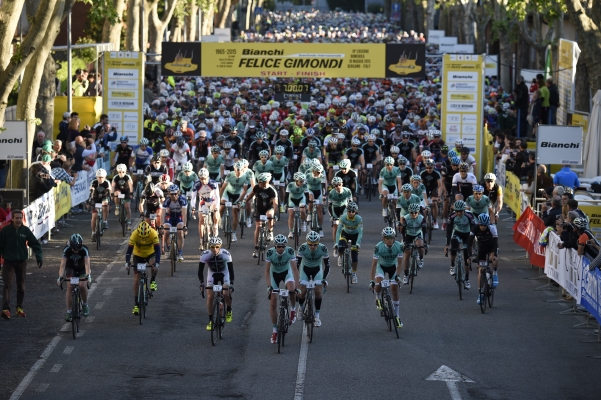 The UK is fascinated by Bergamo and its Granfondo
The "Telegraph" enhances the city's beauty: the bicycle becomes an ideal tool for tourism development
More and more known and appreciated abroad, the Granfondo Gimondi-Bianchi (whose 20th edition will take place on Sunday, May 15th, 2016) sees growing interest everywhere, especially in countries where the bicycle is experiencing a magical moment, and particularly in the United Kingdom, regarded as the European region in which both bike sales and the number of people becoming fond of this sport soared.
Already popular in recent years among a number of British fans and covered in detail by the media who came to see this event on the ground, the Granfondo Gimondi-Bianchi will very likely get a further boost thanks to an article published a few days ago. This piece was included in the travel section of "The Telegraph" newspaper, that has enhanced the charm and beauty of Bergamo, the city where the Granfondo takes place.
The "Telegraph" put Bergamo at the top of a list of "European cities you never thought to visit – but probably should": a characteristic of many Italian cities, which unfortunately aren't getting the publicity they should have abroad. In that article, there were listed significant reasons to encourage the UK tourists to visit Bergamo: "Largely ignored by travellers in favour of nearby Milan, Bergamo is Lombardy's <finest hill town>, while its Piazza Vecchia is <one of the loveliest> in Italy. It's a charming walled city with lovely little winding streets where you can pick up an ice cream, and is also the perfect base from which to explore the Lombardy countryside and the Italian lakes."
As a result, more than sure, many cycling enthusiasts will seize the opportunity to race the Granfondo Gimondi-Bianchi and plan a nice holiday, also enticed by the many daily direct air links with the airport of Orio al Serio at extremely affordable prices. Will it be the year of the United Kingdom in the "Gimondi"? We hope so. 
The registrations for the 20th edition of the Granfondo Gimondi-Bianchi are open and can be made online on the official website of the event www.felicegimondi.it by filling the online form, or directly at the headquarters of the organizing company, in Bergamo, via G. Da Campione, 24/c (Tel. +39 035.211721 – fax + 39 035.4227971 – info@felicegimondi.it).