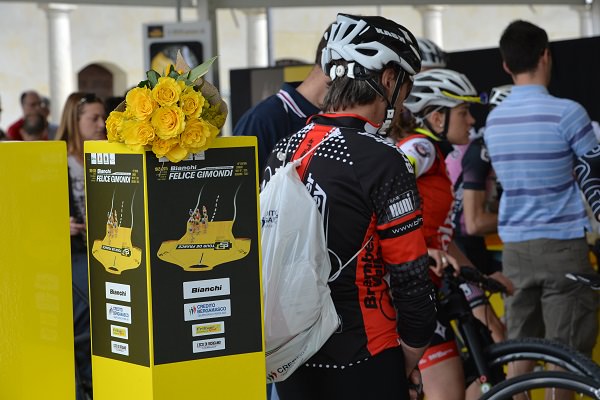 Bergamo opens doors to a global Granfondo
Bikes everywhere. Just a few hours are left before the start of the 19th Granfondo Internazionale Felice Gimondi Bianchi, and Bergamo city is already immersed in the atmosphere. Yellow everywhere: Felice Gimondi will celebrate tomorrow 50 years of that memorable Tour de France, an unforgettable sports tale in the years of the Italian economic boom, thanks to a young guy who suddenly jumped out on the headline in 1965, on his way to become an icon of the cycling history.
 
Celeste everywhere. The celebration of the 130 years of Bianchi, the main sponsor of the event, is another big theme of the 2015 edition, that further widened its international dimension, involving riders from 30 Nations. Since today's early morning, the crowd started flowing into the race permanence, like a disciplined invasion. A top-notch organization, one that stands the comparison with World-class professional races, took care of every single detail to make sure each participant finds the ideal atmosphere here in Bergamo.
The weather is good and so will be tomorrow: the feast is guaranteed. There will be 3740 amateur riders, ready to challenge each other – and themselves – on the roads of the Bergamo Province, picking among three different routes: the shorter one of 89,4 km (1209 metres altitude difference), the medium one (128 km, 1623 mt altitude difference) or the long one of 162,1 km, with a 2479 metres overall altitude. All the three routes feature classic climbs like Colle del Gallo and Selvino, while the longest one will also includeForcella di Berbenno and the Costa Valle Imagna climb (1036 metres).
 
Inside the "Lazzaretto" – the race permanence where all the services are located, from the race packs collection to the Gimondi Expo village – preparations are proceeding smoothly. Tomorrow, after the race, everybody will gather here for the pasta party and a couple of hours of well-deserved relax. In the VIP area, a series of original artistic installations dedicated to each stage of the 1965 Tour de France will tell the story of Gimondi, his race, and his time.
 
After a forced stop in 2013 due to viability issues, and the promising restart in 2014, the Granfondo Gimondi Bianchi regained its first class status in the growing granfondo movement. Through its history, the "Gimondi" always stood out of the bunch for its technical-organizational quality, as testified by all the security measures set up: 60 regulating motorbikes, 240 cross guards, 40 radio operators, 40 emergency vehicles, 70 health workers.
 
The regret of those who applied after the deadline, and will therefore not be able to start, is totally understandable. A race like this is not everyday business
. But now the big day has come: tomorrow, 7 o'clock, the huge peloton will stroll through Via Marzabotto.