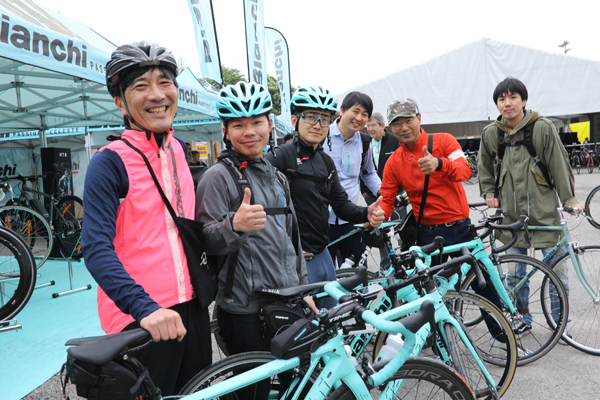 A Giro d'Italia feeling at Granfondo Gimondi Bianchi
There will be 4.105 starters tomorrow at 7AM in Bergamo. The 21st edition of the queen of Granfondo is dedicated to the Giro d'Italia, and the pink triumphs of the legend from Sedrina
At 7 AM tomorrow morning, Sunday May 7th, 4.105 riders will line up at the Granfondo Gimondi Bianchi start in Bergamo, Via Marzabotto: their passion will be the background to Felice Gimondi in pink, fifty years after the first of his three Giro d'Italia wins, three gems in his amazing palmares.
About 70% of the 21st Granfondo Gimondi Bianchi starters weren't even born when a young Felice Gimondi was duelling on the Tonale pass with Jacques Anquetil, but after all that's the real meaning of cycling, and of the passion that unites the long peloton about to face the bends of Colle Gallo, Selvino and Val Taleggio climbs, even the daring ones who will go for the long route (162,1 km, almost one-third pointing uphill).
Facing the longest distance is not for everybody though, and that's why Granfondo Gimondi Bianchi allows the participants to choose the route already on the way, leaving an open option to go for the short (89,4 km) or the medium route (128,8 km): the "Gimondi" is recognized among the most beautiful Granfondo, but also as a demanding one. "It's a special day for amateur racers, everything is set up and cured to perfections, it really feels like the Giro d'Italia," Gimondi said, while in two weeks the real Giro d'Italia will also finish in Bergamo.
Felice will show up in the front row tomorrow: he maybe will not race so many kilometers, but he certainly summed enough in his 14 Giro d'Italia (the race this edition is dedicated to), including 9 podium finishes and not even one withdrawal. The icon of Italian champion will certainly be eager to share jokes and memories with those who remember him from his old days, and who hope to come back home with a photo with an unforgettable legend, one of the real myths of the Giro d'Italia history.
At the "Lazzaretto", the Granfondo Gimondi Bianchi's permanance, the eve has been characterized by the rain, but the weather is expected to improve on Sunday, leaving way to a dry race, like it has been in recent years. In the starting field, there will also be the "Puntuali", the 33 riders who have never lost any of the 21 editions of the Granfondo. The number of women at the start is on the rise: with almost 6% of the whole field, they will make this a legitimately "pink" edition.