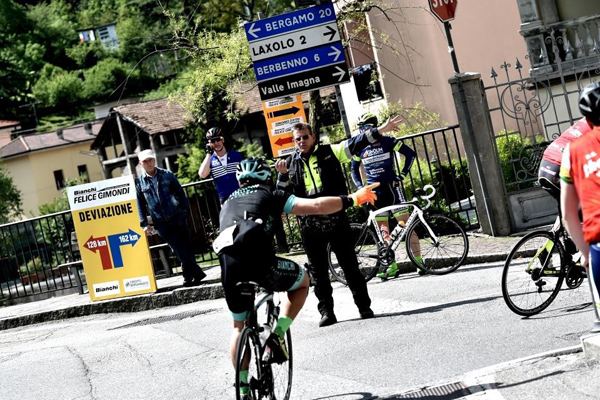 Choose your route along the way at the "Gimondi-Bianchi"
As usual, riders of the prestigious Granfondo in Bergamo will have the opportunity to select their route freely during the race. The 21st edition takes place on Sunday May 7th, 2017
The keyword is "choice": that's part of what makes Granfondo Internazionale Felice Gimondi Bianchi different than most Granfondo races, in Italy and abroad. The cyclist lives for sensations, in an intimate relationship with road and and fatigue. In consideration of that, the organizers of the "Gimondi-Bianchi", now in its 21st edition to be celebrated on Sunday 7th May 2017, and entitled to "Felice Gimondi in the pink", will once again propose the three established and very popular routes – "short", "medium" and "long", of 89,4 km, 128,8 km and 162,1 km respectively – as well as the opportunity for every athlete to choose which way to go for during the race,.
"Having raced the Gimondi-Bianchi plenty of times, I can tell that keeping options open until the very last moment is really something – emphasized Pierluigi Teani, a cyclist from Bergamo as well as a faithful "gimondista" for many years. – At the registration time, you seldom have a very defined idea of how your body will respond to mountains and fatigue, and even more if you are not in your greenest age anymore, or maybe your training preparation was not as good as you hoped."
It's amateur racing, so the philosophy behind it is clear, but you can't deny some competitive spirit is part of the event organized by GM Sport, along with passion. This year, the close relationship with Italian legend Gimondi and the biggest race in Italy, the Giro d'Italia, will be celebrated on the year of the 100th anniversary of the Corsa Rosa. In his career, Gimondi won the Giro three times, while also adding nine podium finishes in 14 participations, with no withdrawals.
The "queen" of Granfondo is already waiting for its protagonists: participants can register for the 21st edition filling out the dedicated online form on the official website www.felicegimondi.it, or at the G.M. Sport Office in Via G. Da Campione, 24/c – 24124 Bergamo (tel. +39 035.211721 – fax + 39 035.4227971).