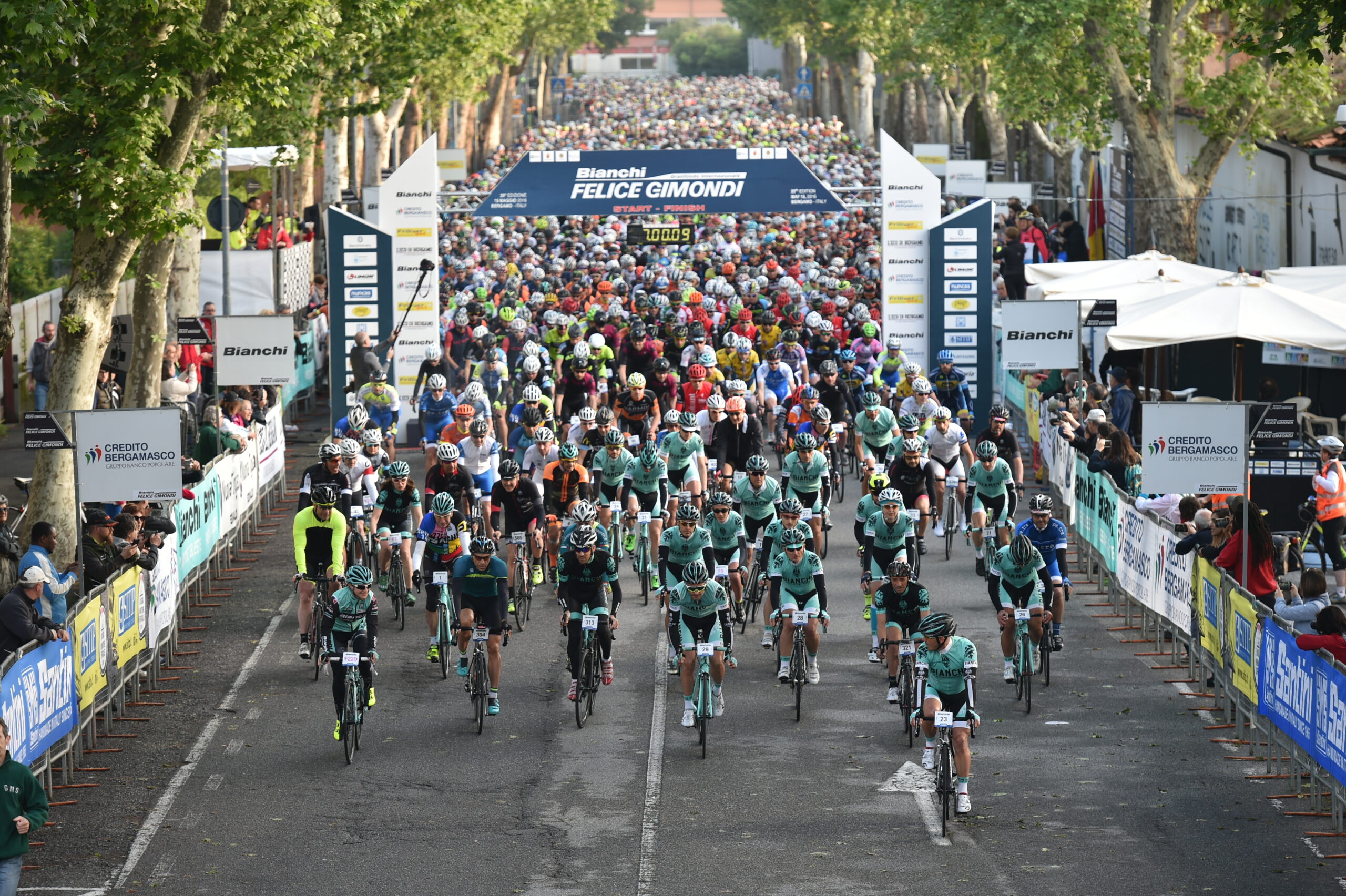 Rent a road racing bike at the start and join the Granfondo Gimondi
After opening to every category of bikes and offering the opportunity to cycle directly from the airport to the race start, at the Granfondo Gimondi Bianchi there's now the chance to rent a racing bike directly in Via Marzabotto and get into the action with the ListNRide service
It is finally time to return to Bergamo for the Granfondo Internazionale Felice Gimondi – Bianchi on Sunday May 8th, in what would have been the year of Felice's 80th birthday.
After being postponed for two consecutive years due to the health emergency, the 24th edition of the event bearing the name of the late Italian cycling champion and organised by G.M.S. is preparing a five-star edition. After opening the GIM category to all types of bikes, both muscular and electric, and the possibility of reaching the start of the event by cycling directly from the Orio al Serio International Airport, at the event it will now be possible to rent a road racing bike directly at the race start.
With the ListNRide service, it is now possible to choose between different brands, models and sizes of racing bikes that can be rented for the event day alone: a further effort towards cyclists who have to face a particularly long journey to reach Bergamo and those coming from abroad. The available options can be selected on the website www.listnride.com/events/felice-gimondi: once the booking has been made, the bike will then be collected at the start, in a dedicated space.
"Through this service, we aim at making our Granfondo even more accessible – commented Giuseppe Manenti, organiser of the event -. With the start located less than five minutes by bike from the airport, the opening to all types of two wheels, including pedal assisted ones, and the possibility of renting a racing bike directly on site, we have what it takes to meet the demands of every cyclist".
REGISTRATIONS
Last call for registering for the Granfondo Gimondi: the deadline is set for the end of this week, Saturday, April 16th.
The available routes are the classic ones of 89.4, 128.8 and 162.1 km, designed by Felice Gimondi himself. Together with the registration, it is also possible to get one of the unique limited edition jerseys of U.S. Sedrinese, Felice Gimondi's first club, realised by the knitwear factory Santini and official outfit of the 24th edition.
Further details are available on this website.