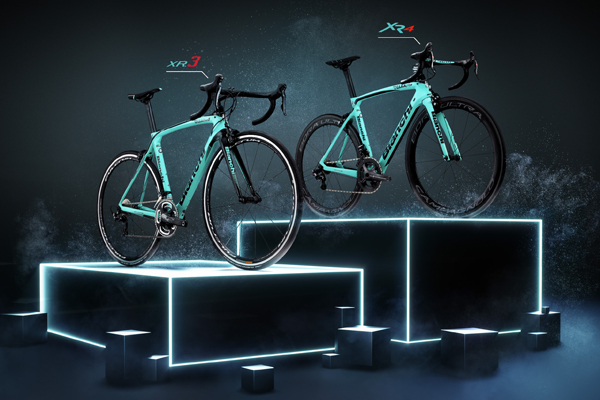 GF Gimondi Bianchi to host Bianchi Oltre XR3 premiere
The new Bianchi CV bike is the most awaited novelty of the Expo Area. About 150 Bianchi's international guests will be in Bergamo on May 6th and 7th to live a special experience "in the pink"
The GF Gimondi Bianchi is around the corner and Bianchi is ready to live it in the front line, whether on Bergamo nearbies' roads and in the Lazzaretto's Expo Area, next Saturday and Sunday, May 6th and 7th. As well as the historic bond between Bianchi and Felice Gimondi, the partnership between Treviglio's company and the race organized by G.M. Sport is year-by-year stronger, beyond Bianchi's established choice of being naming sponsor of the event.
Bianchi will feature in the GF Gimondi – Bianchi Expo area showing a wide selection of Road, MTB and City-Trekking models, including Oltre XR3, the newest addition to Bianchi's suite of high performance aero road bikes engineered with Countervail patented technology. Specialissima, Oltre XR4, Infinito CV, Aquila CV and Methanol CV will be on show in Bergamo as well.
Like in the latest two editions, the most famous Italian bike manufacturer invited to the Granfondo Gimondi – Bianchi about 150 guests from all over Europe and several Countries around the World, including Australia, Japan, Korea, Sri Lanka, South Africa and Taiwan. The guests will report to the Bianchi welcome area inside the EXPO Gimondi, and will live two intense days of cycling, culminating in a very special edition of the Granfondo whose title is "Felice Gimondi in the pink".
The bianchisti will ride on the same climbs – including Colle del Gallo and Selvino – experienced some months ago with Bianchi Oltre XR4 by Team LottoNL-Jumbo's Steven Kruijswijk, five-day owner of the pink jersey at 2016 Giro d'Italia, one of the big guns of the Giro 100 starting from Sardinia on Friday, May 5th.
Bianchi will be represented in GF Gimondi Bianchi's peloton also by the Bianchi Factory Team – the line-up made by Granfondo riders selected by Bianchi – and the Team Bianchi, composed by customers of the Officina Edoardo Bianchi in Bergamo and the Bianchi Cafè & Cycles Milano.
The GF Gimondi Bianchi will start on Sunday, May 7th at 7:00 am. The participants can choose along the way among three options: short (89,4 km), medium (128,8 km) or long route (162,1 km). The Expo Area at the Lazzaretto – meeting point of Granfondo's cycling community – will open on Saturday, May 6th: all participants will gather there to collect their race numbers and packages.