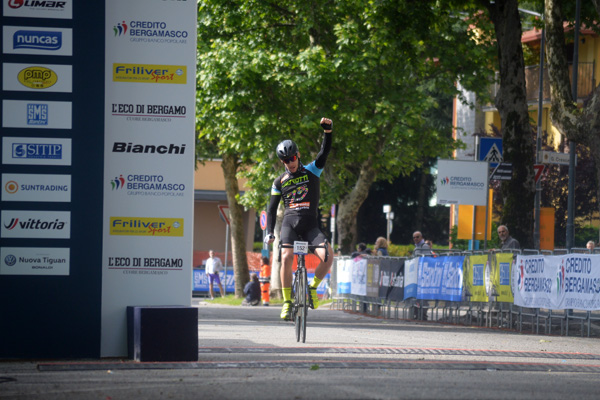 At GF Gimondi Bianchi short route doesn't mean easy
The shortest course of the Granfondo to be held next May 7th runs almost 90 km, with a 1.400-meter overall altitude and two iconic climbs of the Bergamo area
With less than 100 days to the Granfondo Internazionale Felice Gimondi – May 7th, 2017 in Bergamo (Italy) – it's time for the riders to ponder the three routes, and evaluate how demanding and suggestive they can be. Besides the 162,1 km long route with six climbs, and 128,8 km medium route featuring four uphills, GF Gimondi Bianchi's short one is also expected to pose a fair challenge for its participants, with its 89,4 km and three climbs, including two of the most iconic ones of the Bergamo area.
Opened by the Colle dei Pasta uphill in the early race (3,4 km uphill with a 143m altitude difference, 4,2% average gradient and 12% maximum gradient), the GF Gimondi Bianchi's short route also features the Colle del Gallo (7,5 km climb with a 6% average gradient and 12% maximum gradient, with a 445-meter altitude difference) and the Selvino (12,2 uphill to the 946-meter asl peak, with a 5,1% average gradient and 10% maximum gradient, with a 621-meter altitude difference. The 89,4-km course's overall altitude difference is 1.400 meters, with 23,1 uphill kilometers. Fabio Fadini owns the best performance among the Men's winners, having won the race in 2h24:36 (37,091 average speed) in 2016. Serena Gazzini was the fastest woman ever in 2h34:48 two years ago (34,665 average speed).
All of the three routes have remained unchanged, having collected affection and appreciation by thousands of participants over the years, from Italy and beyond. In addition to the three short course's mountains, the participants of the medium route race will tackle the Costa d'Olda and the Forcella di Bura ascents (the latter up to 884 meters asl), before the descent towards Bergamo's finish. The overall altitude is 2.100 meters with a 33,4 km uphill.
After 111,2 km of the medium course, the last crossroad will divide those who stick with the medium and those stretching to the 162,1 km distance of the long route, including two more climbs in the Forcella di Brebenno (km 116,7) and the Costa Valle Imagna. Also in 21st edition – entitled to "Felice Gimondi in the pink" – the OC will once again propose the opportunity for every athlete to choose which way to go for during the race, without having to bound to one route or another at the moment of the registration or at the starting line.
How to register for 2017 Granfondo Gimondi Bianchi
The "queen" of Granfondo is waiting for its protagonists: participants can register for the Granfondo Gimondi-Bianchi's 21st edition filling out the dedicated online form on the official website www.felicegimondi.it, or at the G.M. Sport Office in Via G. Da Campione, 24/c – 24124 Bergamo (tel. +39 035.211721 – fax + 39 035.4227971).