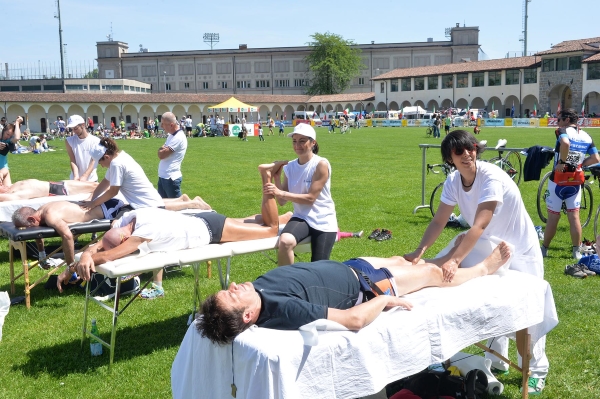 Surprises and fun at Gimondi Village
Saturday and Sunday, May 14-15, the cycling community gathers at the Lazzaretto's permanence in Bergamo to experience the magic atmosphere with Expo and a new book's preview
Even before the start of the race action, the 20th Granfondo Felice Gimondi Bianchi event starts with the Felice Gimondi village opening (Saturday 9.00-20.00 and Sunday 9.00-16.00), at the Lazzaretto. The historical venue in the heart of Bergamo will be the meeting point of the cycling community gathering for this "Jubilee" edition. Within the wide open space, a number of champions, amateurs, families will experience the magic atmosphere and have fun, as usual at this event.
The Felice Gimondi village, perfectly set up with all services, will be the crowded heart of the event: all participants will report there to collect their race numbers and packages, while the others are set to enjoy products, initiatives and surprises for all – children included – at the Expo.
Many important brands such as Bianchi (the event's title sponsor), Creberg, Suntrading, Pmp, Limar, Santini, Vittoria Gomme, Bonaldi, maglia nera, Sidas, Best of Italy race, 3T, Bicisupport, Lacomed, Lasermarking, Hicari, Dacathlon, Shimano, Aggresive race, Simba, Lordgun, Assos, Neonoptic will showcase their brand and products in the Expo.
At the food&beer area powered by Elav there will be small sandwiches with ham and salami, as well as cakes, draft beers, water and soft drinks. On Saturday at 6:30 pm a happy hour with music and DJ set will take place. Many activities for kids will be organized by Ananda Bergamo (Saturday from 4 to 6 pm, Sunday from 10.30 to 12.30 am and from 2 to 4 pm) including kids maquillage, marble races, hurdles route and a painting laboratory to realize the fan's t-shirt.
?Free entrance at the village will allow lots of fans to meet Felice Gimondi in person. On the occasion, the Granfondo's guest star – always eager and available for advice, pics and autographs – will present his new book written with Maurizio Evangelista, "Da me in poi" (From me onwards) with a first preview sale, before hitting the shelves of all bookshops from May 17th. The new book is published by Mondadori with a preface written by Eddy Merckx.